Zakat Policy
Categories of Muslims to whom Zakat is paid are prescribed by Allah in the Quran in Surah Tawbah, verse 60:
"Charity is only paid for: the destitute, the poor, those collecting it, to soften the hearts, in manumission, those in debt, in God's path, and the wayfarer, an obligation from God. God is Omniscient, All-wise."

From the above verse, there are eight categories of Zakat
1. The poor and needy;
2. Those collecting Zakat;
3. To soften the hearts;
4. In slavery;
5. Those in debt;
6. In the cause of Allah; and
7. The traveller.
Poor and Needy
Generally, the scholars of Islam differentiate between the poor and needy as separate categories. For the purposes of this policy, the poor and needy will be categorized as together. This category includes fundraising for those who do not have sufficient means to fulfill basic needs (for themselves and those dependent on them).
Administrators of Zakat
According to the Shariah (Islamic Law), no more than 12.5% of gross Zakat funds collected in a given year should be used for paying those employed in administering and distributing Zakat. LaunchGood is a crowdfunding platform with thousands of entities raising funds. As a result, it is difficult to verify compliance with the 12.5% limitation applicable to this category. Any campaigns raising funds under this category will be referred to a Zakat expert for verification.
Softening the Hearts
Any act that would preserve a person's Islam or prevent Islam from being disparaged, would fall into this category. Examples of such campaigns would include: Dawah for non-Muslims, new Muslim support and care programs, programs for at-risk population, and campaigns for those who have social and economic restrictions (shelter for women and children). Zakat-verification of this category is subjective to quantification of the need being addressed. If campaigns are not one of the above mentioned categories, they will be referred to a Zakat expert for verification.
Freeing Slaves
Historically, this category dealt with using Zakat funds to free slaves from bondage. Contemporary examples of this category (on which giving Zakat is permissible) include: human trafficking, sex traficking and child labour. To date, LaunchGood has not raised funds for causes in this category.
Those in Debt
This category refers to paying off debts of individuals where such debt was taken out of necessity to fulfill basic needs, pay medical bills that are not covered by insurance or to recover from a natural disaster.

Note that this category does not typically include debt taken on by Mosques or Islamic community centers. However, limited exceptions are made for Mosques in low-income areas that are unable to pay their rent or utility bills. For campaigns crowdfunding for medical debt; if a person has already started or completed treatment, they can be eligible for Zakat. If the treatment has not started, the campaign is not eligible for Zakat.
In Allah's path
This category includes any attempt to proliferate Islam. Eligibility for this category is subject to evaluating the need for a campaign and the expected results. Zakat eligibility for this category will be referred to a Zakat expert.
Traveller
This category includes refugees or a person who is relatively wealthy but, due to exigent circumstances, are cut off from their source of wealth. The person should be in transit as they receive Zakat. Example campaigns include refugee support.
Capital projects and operational costs
Funds raised in direct benefit to and for people who are Zakat eligible like refugees or war victims are Zakat eligible. Examples include medical facilities for refugees, water wells in areas of famine, education costs for orphans due to war and cost of food production and distribution in war zones.

This does not include capital projects being fundraised in general. Examples include building costs for schools and Mosques.
LaunchGood Zakat advisors
Shaykh Joe Bradford
Shaykh Joe Bradford is an entrepreneur and an American scholar of Islam. He holds a Master of Islamic Law from the University of Medina, and has studied traditionally in the Muslim world for the past 20+ years. Shaykh Joe is the author of the Simple Zakat Guide. Shaykh Joe is LaunchGood's Zakat product advisor and verifies eligibility of Zakat campaigns.
Shaykh Yaser Birjas
Shaykh Yaser Birjas is the Imam of Valley Ranch Islamic Center. He graduated as Valedictorian with highest honors from the University of Medina. Shaykh Yaser is an expert in Fiqh, Usul and financial literacy. He verifies eligibility of Zakat campaigns at LaunchGood.
Verification Process
At LaunchGood, every Zakat campaign is individually verified for Zakat eligibility by our team of compliance and Zakat experts.
For any questions about our Zakat policy or verification process, please contact our Zakat Manager.
Zakat-verified Badge
The Zakat-verified badge allows Zakat givers to quickly identify Zakat campaigns on LaunchGood.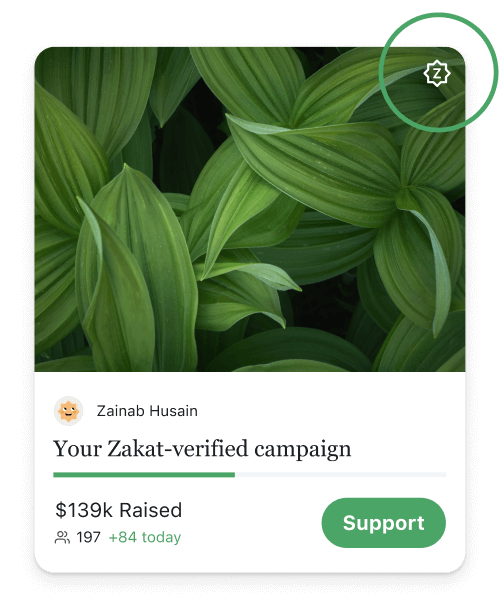 What types of campaigns do we verify?
Any campaign that selects the Zakat eligible option in the Admin tab will go through the Zakat verification process by our team of compliance and Zakat experts according to LaunchGood's Zakat policy.

Zakat-verified badges can only be applied to campaigns that are approved by LaunchGood's team of compliance and Zakat experts. In order to maintain accuracy, campaigns that include a Zakat-verified badge on the cover, profile photo, or within the campaign pitch may be subject to deletion.
Platform and credit card processing fees
On all donations, mandatory industry-standard credit card processing fees apply. Depending on the payment processor, country or card, credit card processing fees are typically 2.9% + $0.30.

LaunchGood offers 0% platform fees. Supporters have the option to leave a tip at checkout to support LaunchGood operations.