Hello, my name is Manal Faris, I'm thirteen years old and I live in the UK. 
I've written my 1st Islamic novel named as 'The Boy in the Well' - The Story of Prophet Joseph and I need your support to publish it.
I love writing and art. To me, they are both connected. Also, my background is Sri Lankan, a small island below India. I'm part of a family of six and I'm the middle one among my siblings (it's not as bad as some make out). 
So, now you know me a little more-  I hope. :)
This campaign is all about my book: The boy in the well, the story of Prophet Joseph. 

It's the life of our inspirational Prophet Joseph in the style of fiction, the reason I chose to write it like that is because there are so many fact books out there, but while reading them-most of the time-I found myself yawning.
For teens like me, the adventure, the lessons and the amazingness of Prophet Joseph's life was lost. And so I thought, why not capture it in fiction; it's still moralistic, interesting and full of life changing lessons.
By helping me raise money to publish this book, you will be part of putting a book out in the world that is both fun to read and beneficial. 
You'll be assisting a future author (me: grinning as I say this) and you'll get a copy of 'The boy in the well' for yourself!
How much do we need and where will it go?
Well, we are planning to raise £5,000. From that, £3,500 will go to printing 1000 copies of the book, the remaining £1,500 will go towards editing and marketing.
I don't want to write it and no one to read it!
Quote of a printers on printing 1000 copies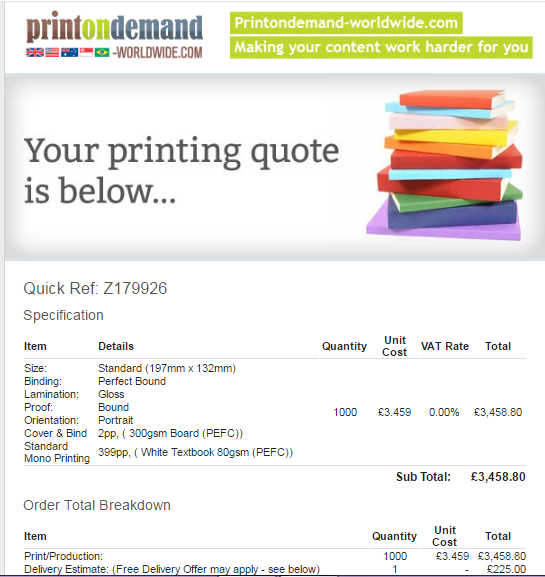 What others have said about my book: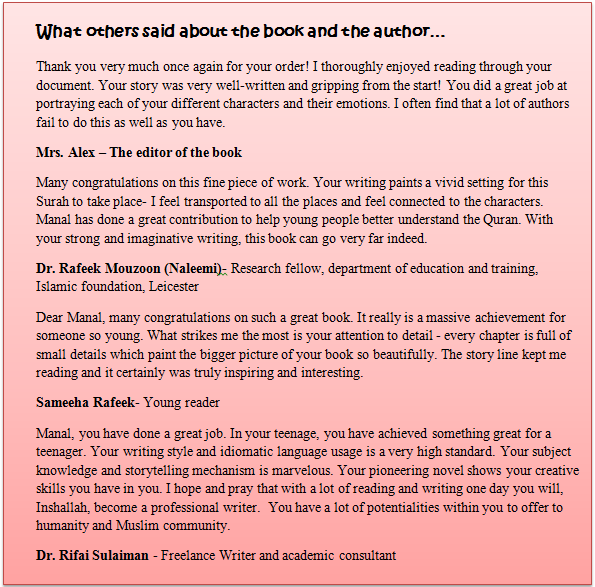 Now you know all there is to know about me and my book. 
If you believe this is a worthy cause, then go ahead and jump on board the 'Funding' train (It's not funny! I know!). 
You can share with your friends and family by clicking the share button and telling others about it too.
Thank you for giving up your time and reading this.

Jazakallah. May Allah reward you and forgive your sins and enter you with your family into Jannah. May Allah save us all from the hell fire.